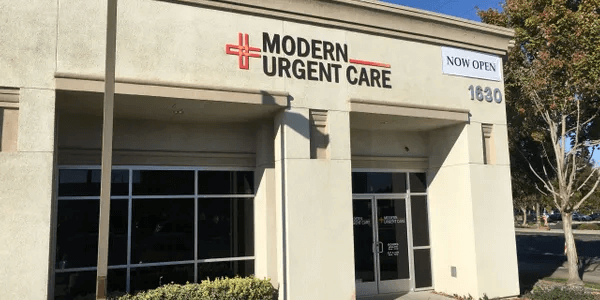 1630 W Yosemite Avenue Suite 1
Manteca, CA 95337
(209) 629-8771
Weekdays: 9:00-7:00 PM, last patient at 6:30 PM
Weekends: 9:00-5:00 PM, last patient at 4:30 PM
Modern Urgent Care in Manteca is here to address and treat your health concerns. Come see why we were awarded Urgent Care of the Year!
Our Goal for Urgent Care
Typically, emergency rooms work under a triage system. This system is put in place to allow the medical team to prioritize patients depending on their severity of symptoms and vital stability. For example, even if someone with flu symptoms has been waiting a few hours, an unconscious patient rushed in from a car accident scene will be treated first.
Our goal for urgent care is to create a space where patients with non-threatening symptoms can be treated promptly and with our full attention. By building this environment, we can help keep emergency rooms clear for patients in life-threatening conditions.
What Modern Urgent Care Offers
Modern Urgent Care is your care provider for nonemergency healthcare. We strive to raise the bar on all our services so patients receive the attentive care they deserve. We can help treat:
Animal bites
Lacerations
Skin conditions
Asthma
Eye and ear infections
Sprains and strains
Seasonal allergies
Ingrown nails
And more
We also have a series of testing services, including:
Point-of-care testing: We offer swab testing for strep throat, mono, RSV and COVID-19.
Urinalysis: Our urinalysis testing can help diagnose a urinary tract infection (UTI).
Blood work: Our laboratory can process a complete blood count to test for bacterial or viral infections.
STD and STI testing: We offer rapid testing for 30-minute results for gonorrhea, chlamydia and trichomoniasis. We can also send samples to Quest for HIV, HPV and syphilis.
Benefits of Choosing Modern Urgent Care
You can trust the team at Modern Urgent Care to listen to your health concerns and help provide effective treatments for your condition. At Modern Urgent Care, we:
Are emergency-trained providers
Provide a wide variety of urgent care services
Stay ahead of current healthcare trends
Remain up-to-date on the latest medical technology
Treat various age groups, from pediatrics to geriatrics
Visit Us in Manteca Today
If you live in or commute to the Turlock, Lathrop or Manteca, CA areas, let Modern Urgent Care be your one-stop location for your healthcare needs. We are located in Manteca on W Yosemite Avenue and are open every weekday from 9 a.m. to 7 p.m. and each weekend from 9 a.m. to 5 p.m. Book an appointment or walk into our clinic today!