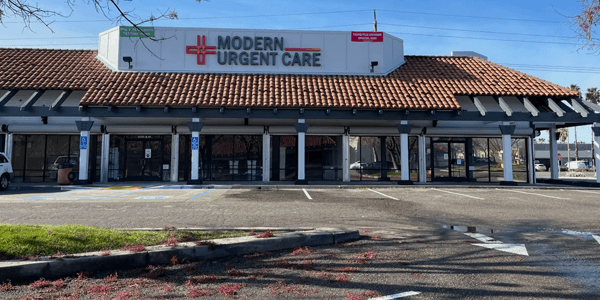 5066 West Lane, Suite A
Stockton, CA 95210
(209) 661-5705
Weekdays: 9:00-5:00 p.m., last patient at 4:30 p.m.
Weekends: Closed
Modern Urgent Care of Stockton is your one-stop source for nonemergency medical care. We offer supportive health care and triage services, freeing up local emergency rooms to handle critical conditions. With low wait times and experienced medical professionals, you can see for yourself why more patients are choosing Modern Urgent Care.
Medical Services at Our Stockton Walk-In Clinic
Our Stockton, California, urgent care clinic serves an important role. We bridge the gap between your primary care physician (PCP) and the ER. If your condition is stable but you can't get in to see your PCP, Modern Urgent Care offers premium nonemergency care. We provide health services for a wide range of conditions, including:
Lacerations
Sprains and strains
Animal bites
Pediatric health care
Sports physicals
Respiratory illnesses
Asthma
Seasonal allergies
Skin conditions
Eye and ear irritations and infections
Ingrown nails
We also perform high-quality diagnostic services at our Stockton clinic, including:
Point-of-care testing: Get tested for some of the most common illnesses, including COVID-19, strep throat, RSV and mono.
Blood work: Complete blood counts test for viral and bacterial infections.
Urinalysis: Visit for a urine testing check if you notice signs of a urinary tract infection (UTI).
STD and STI testing: Get rapid test results for some of the most common sexually transmitted infections.
Telehealth: We offer diagnoses and treatment without you even having to leave your home.
Why Choose Our Urgent Care Clinic for Services in Stockton?
Modern Urgent Care is dedicated to helping patients get the care they need fast. Emergency rooms are vital to the health care system. However, they prioritize critical care. If you go to the ER with a nonemergency, like flu symptoms or a sprained ankle, you can expect to wait.
Our walk-in clinic offers advanced medical services without the delay. We ensure patients with non-life-threatening conditions get our full attention, providing outcome-based care that prioritizes patient safety and satisfaction.
When you choose Modern Urgent Care, you'll experience incredible benefits you may have thought were only available at your local hospital, including:
An incredible range of urgent care services.
The latest medical technology.
Emergency-trained providers.
Care for all age groups, from pediatric to older adults.
Experience the Difference at Modern Urgent Care in Stockton, California
Modern Urgent Care of Stockton is located near the corner of West Lane and East March Lane. We provide premium health care services to residents throughout Stockton and nearby suburbs. We are open every weekday from 9 a.m. to 5 p.m., so book a same-day appointment online or drop in.
We look forward to treating you.