If you have a lingering cough and fever, you may have bronchitis. This condition often occurs after a respiratory infection that heals on its own, such as a cold. With bronchitis, the bronchial tubes that carry air to and from your lungs become inflamed and filled with mucus. This leads to irritation and coughing, which can make breathing more difficult.
You may be wondering if you have bronchitis or something more severe, like pneumonia. Modern Urgent Care in California's Central Valley can help. We offer point-of-care testing and can recommend treatment to help alleviate symptoms.
When to Go to Urgent Care for Bronchitis
The symptoms of acute bronchitis can be aggravating or even concerning:
Lingering cough
Fever
Mucus production
Bloody mucus
Shortness of breath
Soreness in your chest or throat
Runny nose
Difficulty sleeping
Our urgent care team will review your symptoms and examine your ears, nose and throat. We also provide any needed diagnostic tests, including a chest X-ray, to rule out pneumonia. Once we understand how your body is responding to this illness, we can prescribe treatment, such as cough medications, anti-inflammatories or even an injectable steroid for severe bronchitis.
Is Bronchitis a Reason to Go to the ER?
Bronchitis symptoms can persist for a week to 10 days after the initial bout of illness. Because of this, many people hurry to the ER, worried that their condition may be serious.
Bronchitis is not a reason to rush to the hospital. Instead, choose Modern Urgent Care for quick and efficient care. We offer testing and treatment for bronchitis to help you manage your symptoms and find relief. This keeps the ER available to handle more critical care patients.
How to Tell If Bronchitis Is Turning Into Pneumonia
Bronchitis does not usually turn into pneumonia. However, the initial respiratory infection can progress into both bronchitis and pneumonia. You may have difficulty telling these conditions apart as both cause congestion and cough.
Pneumonia can cause the lungs to fill with fluid, leading to more intense symptoms, and it is more severe than bronchitis. Visit an urgent care clinic if you're unsure whether you have bronchitis or pneumonia. Pneumonia can be dangerous and requires immediate care.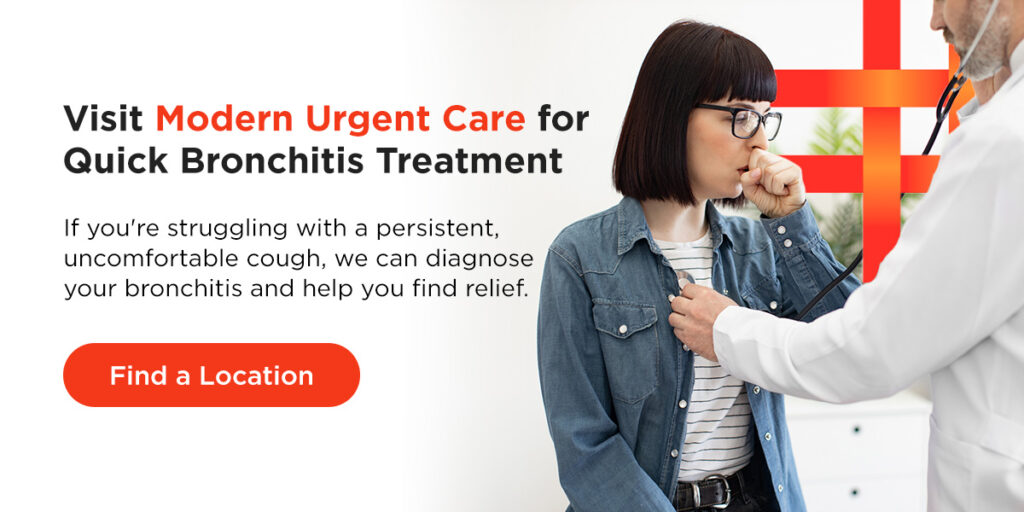 Visit Modern Urgent Care for Quick Bronchitis Treatment
Your health is important. If you're struggling with a persistent, uncomfortable cough, we can diagnose your bronchitis and help you find relief. At Modern Urgent Care, you can make an appointment and submit your registration forms before you arrive. We'll hold your place in line. Find a Modern Urgent Care location near you.